PAVE & Louisiana State Police Co-Sponsor Conference: A Success!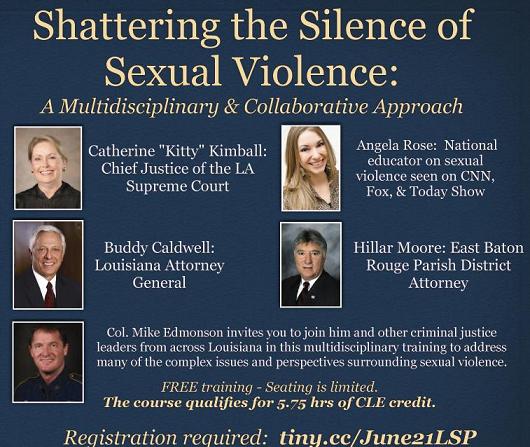 PAVE's Statewide Training in Louisiana
HUGE SUCCESS!
Here is an event recap: http://tinyurl.com/June21Recap
One June 21, PAVE partnered with Louisiana State Police for "Shattering the Silence of Sexual Violence: A Multidisciplinary and Collaborative Approach". It was an incredible day of bringing together law enforcement, advocates, attorneys, probation/parole, juvenile justice, and others to work together.
We are continuing to receive incredible feedback, such as this from Stephen C.  Martin,  Assistant Attorney General, State of Louisiana.
The   one-day  P.A.V.E  presentation  lead and moderated by Angela Rose hit the bulls-eye on key topics concerning sex offenses, sex offenders and the victims of their crimes.  This seminar is an absolute  "must attend"  for  leaders in law enforcement, prosecutors, judges, probation officers, legislators and others involved in stopping sexual violence and repairing its damaging effects.
Here is an event recap: http://tinyurl.com/June21Recap
Click here for a newspaper article from The Advocate.